December 30th, 2013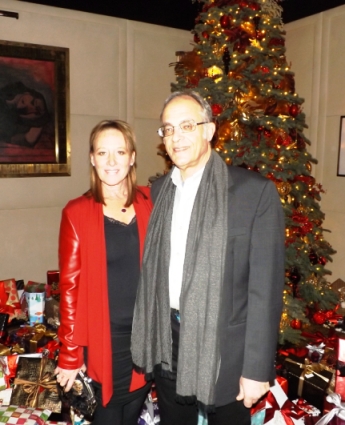 "Life is full of misery, loneliness, and suffering – and it's all over much too soon."   Woody Allen
Just a week before Thanksgiving, on a  cold, still dark, and windy November morning, my husband woke me up about 6:30 a.m.  The seemingly healthy guy who went to sleep the night before had actually thought his arm may have just been asleep when he woke up around 6, and told me he made "one armed" coffee and had what turned out to be his last cigarette, before it occurred to him that the arm wasn't waking up.  He could barely speak and his lower right arm was paralyzed.   We both knew what had happened.  I'd been down that road before.   My father had  a stroke on a hot August night ten years ago.  Unlike my husband, Eric, he never woke up.
In my head, I knew the difference, but I'm not sure I was thinking, what I remember was just feeling, and I was feeling fear and sadness and a terrible panic.  I can't imagine how he felt. He doesn't talk about it much now- a good thing, I think.  As luck would have it a survivor instinct kicked in and kicked in fast, and we did most of the right things that morning.  He obviously couldn't pass the "smile, speak, and raise your arms" stroke test I knew about.  I think we were in the emergency room not 15 minutes later.  He walked in himself, something I learned later we weren't supposed to do, but that's what we did that day.
As he usually is, he was calm through all of it- the speedy gathering of probably 5 or 6 medical people around him, the tubes, the needles, the tests, the IV drip, and the horrific bright hospital lights that I think send already frayed nerves on edge.  Lying flat on his back for, as it turned out for nearly 24 hours, there was no complaint from him at all.  He later said he knew he was in good hands, and that he felt they wouldn't let him die.  He said I was calm too.  Anyone who knows me knows I'm rarely calm, but I can be a good actress and that helped.  But for me, a stroke meant death and the panic stayed with me.
As luck would have it again, he slowly regained the use of his arm throughout the day.  It was almost 100% when he went to sleep in the stroke unit that night.  The slurring was another thing.  It had gotten better, but it was still there.  Instead of being grateful that my husband was still alive and almost miraculously improving, all I could think about when they sent me home that night was that I didn't want to hear the phone ring in the middle of the night with bad news.  So, I stayed up as long as I could, and like the good "helicopter mom" I am, called the nurses three different times to check on him.  He was fine, he was sleeping, he passed the indicator tests, all was good.
To our delight, they "kicked him out of the stroke unit" the next day.  We couldn't believe it.  I still can't.   He was driving the next day, and teaching the next week.  Mercifully, with work, his speech is absolutely perfect, a must for a man who teaches and uses that voice as an asset and an instrument.  Selfishly, it was a must for me too, who loves the radio voice he used so beautifully on air for so many years.
The next steps post- hospital were to correct all the things that helped get him there, long held habits and lifestyle choices that no longer worked for him, or really, either of us.  From the minute they slapped a nicotine patch on him, he hasn't had a cigarette.   He now calls me "the food Nazi", but he's going along with the menu options (at least most of them).    He's done a remarkable job, much better than I have.  A doctor told him later that the stroke as "wake up call"or as I like to call it, "the cosmic fed ex", was the best thing that could have happened to him.  I think he said that Eric had actually "hit the lottery".  It bought him more years most likely than he would have had. Or so I hope.
I like to live a bit obliviously at times, using magical thinking to ease my mind when I'm doing something that isn't always good for me.  But what a doctor told me many years ago came back into my head and hasn't left.  He said, "Until you're about 30, your body works for you.  After that, you have to work for it."  The stroke brought that one home for both of us.
It's not all sweetness and light and "Oh, thank God we dodged that bullet".  It's hard work for him and for me. When he naps I find myself doing the "new mother" ritual, and checking his breathing.   He gets tired, and for weeks after the stroke,  he continued to feel, as he called it "disconnected".  There is a part of his brain that won't ever return.  Luckily, in his case, the rest of his brain made up for it, but I feel as if he's forever changed, both in  good and in hard ways.  We've also learned that, as a doctor said that day, they are rethinking the term "small stroke".  A stroke is a stroke and that's that.
When we talk about it now,  it's usually with a sense of incredible fortune, but sadness too, that life IS short. We are all, in the end, no matter how smart, lucky, happy, or gifted we are,  still very mortal beings and we live with that knowledge.   Clark Gable's character in "The Misfits", written by Arthur Miller, says to Marilyn Monroe's character at one point, " "Honey, we all got to go sometime, reason or no reason. Dyin's as natural as livin'.  A guy who's too afraid to die is too afraid to live."  Ironically, in real life, both actors were dead within a year of that film, but that quote has always stayed with me.  It's real but it's hopeful.
I'm trying to slow down more these days and treat myself and my body better.  If he can, and he can and does, I can too. The small stuff sometimes still gets my sweat, but I stop myself from too much unhealthy panic, or try to.  Next on the agenda,  I'm going to pull out the old holiday standard and hear for the thousandth time what I need to hear again from Clarence the angel, "  You see, George, you've really had a wonderful life. Don't you see what a mistake it would be to throw it away?"
Happy, happy New Year to you all.
For more on stroke, see http://www.mayoclinic.com/health/stroke/DS00150.