July 24th, 2013
"I don't care if younger women know who I am. I want them to know who they are."
Before I got to know  activist, author, and women's movement leader Gloria Steinem, I had recommended her as a speaker for a community fundraising event for women.  Some of the women committee members were quite young, and they… had never heard of her.  It gets better.  Later, as I got to know her, I again recommended her as a speaker for an all community event.  I was told by a male college educator that most students wouldn't know who she was.  As you can see above, Gloria doesn't care if you know who she is, and that's one of the things that make her so extraordinary.
I met Gloria in the spring of 2005, in New York City at the kickoff of Futures without Violences signature violence prevention program to engage men and boys, called "Coaching Boys into Men".  At that time, my brother was a lead supporter of CBIM and sometimes spoke at events.  The speakers at the event held at Mickey Mantle's restaurant consisted about a  half a dozen male professional athletes and coaches, my brother, and… Gloria Steinem. Gloria was to introduce my brother.  She was there, as she was a friend of Future's leaders Esta Soler and Janet Carter, and let the audience know quickly that she'd show up in Alaska in the darkest winter, with no clothes on for Esta and Janet,and anything to do to prevent violence against women.  Gloria doesn't just talk about her causes, she works them.
I was introduced to her prior to the event and we sat next to each other for a couple of hours.  Lucky me.  What I found out about her was how easy she was to talk to, how humble she was, and how kind.  I was a bit bowled over at first and told her that when we were introduced,  I'd felt I should curtsy.  She thought that was funny.  The other thing she thought was not only funny, but amazing, was being in a room of powerful men who were talking about domestic violence.  She summed the day up perfectly by using the words of feminist and civil rights activist Flo Kennedy, who told her once that for things to change in that world, what she called "the jockocracy" would have to show up.  Gloria looked around the room full of rather large, well known, and powerful male athletes and said, "Is this not the jockocracy?".
My brother, Ted, who has met everyone from presidents to Mick Jagger to the late Princess Diana, was visibly impressed with her.  I don't see that happen too often.  And no wonder, she was brilliant that day.
That's just the kind of things that routinely come out of her mouth.  It still stuns me.  Three years passed, I was in New York in September at the Clinton Global Initiative, and was also invited to a fund raiser for the Women's Media Center, co founded by Gloria.  I wasn't sure she'd remember me, but she took one look, crossed the room and gave me a big hug.  She told me that she'd never forgotten that event, with all these "huge athletes" standing up and speaking out.  She knew we'd reached a new place in the movement, a place that opened up and not only invited men to the table, but asked them to help us move needles.  I asked her, on a whim, if I could send her a 21 minute trailer of a film I'd been supporting called "Private Violence".  She said of course and gave me her address.  I sent a few copies, along with my phone number and e-mail..  A couple of weeks later, I was at a restaurant in Sioux City with my sister and brother in law, when my phone rang.  She said, "Cindy, this is Gloria.  Is this a good time?".  My sister's mouth dropped open and I said, yes, it is.  What was I going to say, "No, Gloria, I'm too busy pounding down this chardonnay and eating hors d'oeuvres  to talk to the world famous leader of the second wave feminist movement in America?."
She had called because, as she said, "Cindy, this documentary is SO important!"  I had no idea she'd have that reaction.  The next day I got an email with marching orders.  There was a list of people she wanted me to send it to, and I did.  Not much happened with that, as the film wasn't ready for any kind of prime time yet,  but Gloria's interest in the film never dimmed.  In 2010, she flew to North Carolina to appear at no cost to us at a fundraiser.  She spoke to a packed house and again, luckily, to me for quite a while.
She invited me to call any time I was in New York, and we had dinner in 2011, where in a conversation about three marriages and finding a relationship that was right, she told me that she was friends with all her ex boyfriends but one.  I didn't ask, nor did I ask "So, what's Warren Beatty really like?", although I wanted to .  In between that, were more e-mails and a few more phone calls, so I was beginning to really know this woman who changed so much for so many women in the last 50 years.    She remained such a cheerleader of the film, that we asked if she'd be an Executive Producer, along with Kit Gruelle and me.  Her support is part of how we connected with groups like Chicken and Egg Pictures, a grantor, which led to prestigious nods just this past month from Sundance and the Fledgling Fund. The film is close to being done, not in small part because of Gloria's persistence and support.
In 2012, she invited my husband and I to her home in New York one Sunday afternoon.  It was comfortable, warm, and pretty, as is she.  I told her that my son Ben was not only a comic book fan, but a Gloria fan, as she'd used one of his favorites, "Wonder Woman", on the cover of  "Ms." magazine in its first year of publication, 1972.  She was pleased to hear that, and she walked over to an end table, and picked up the 40th Anniversary edition of "Ms." with…yes, Wonder Woman gracing the cover.  I asked if I could get a copy, and she took a pen, signed it, and handed it to me to give to my son.  Here it is: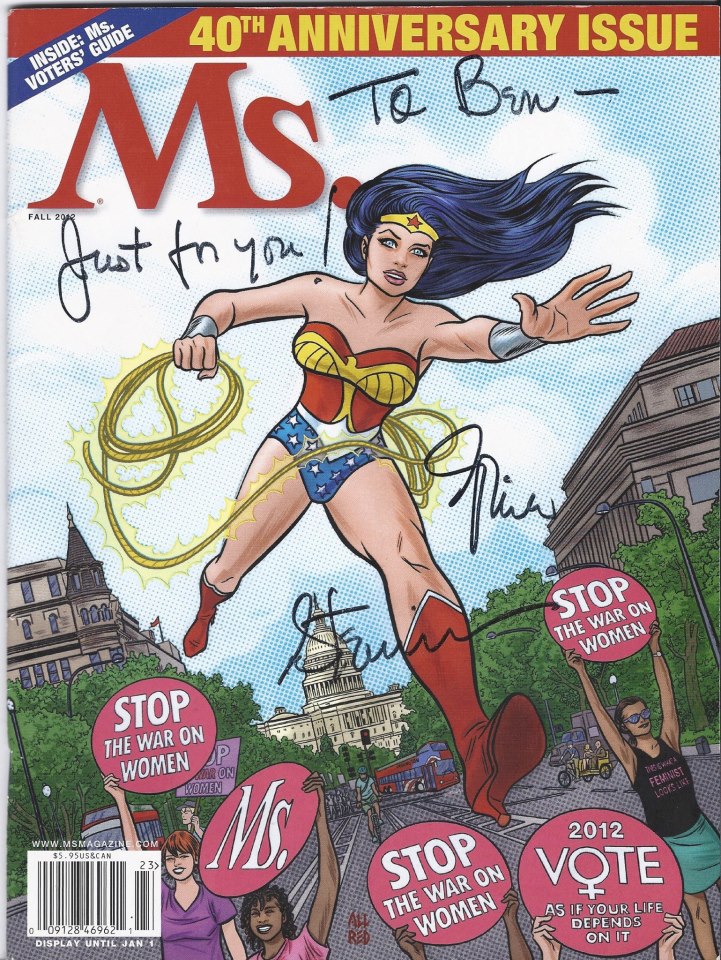 Wonder Woman, fearless, strong, poised, incredibly beautiful, and leading women on a mission, not unlike Gloria herself.  So to all those young women who've never heard of her, give yourself an education, as well as a treat, and look her up.  Like me, and like anything to do with Gloria for me, they won't be disappointed.  Gloria is not only a friend, mentor, and colleague to me and to legions of women for over half a century, she's a glorious gift, and I'm extraordinarily lucky to know her.
So, if you'd like to see Gloria speak here in the heartland sometime, give this a like,and who knows, she may get here yet.  I'm not done trying….