November 17th, 2013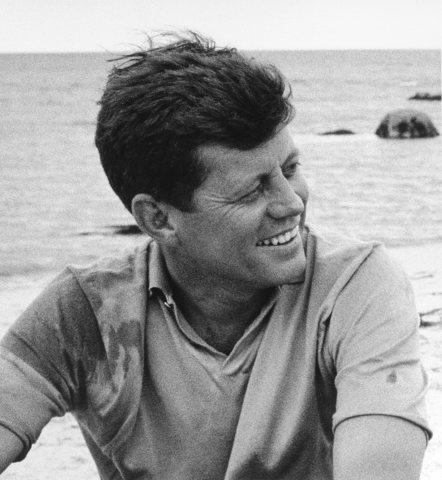 "He was Too gorgeous"   My mother, Joan Waitt
One of the joys of talking to what I call "the elders" is simply…the stories.  All of us are carriers of historical pearls and anecdotes spoken by our parents and grandparents.  I like to share them.
My father, a fourth generation cattleman and a born storyteller, had some real gems, ranging from rescuing Truman Capote from a gang of redneck cowboys in Kansas in the early 60's to a Hank Williams bar- spotting when he was in the service.  I think most of them were dead on, but there could have been some tall tales thrown into the mix.  His story of John F. Kennedy being coerced onto a mule at the Sioux City Stockyards in 1960 during his campaign is well documented, as a program in the last couple of weeks at the Sioux City Museum addressed.  http://siouxcityjournal.com/news/local/sioux-city-native-gives-personal-look-into-life-of-jfk/article_a7e4d5bc-f44d-5398-bd65-5469596b4f90.html.
My father was there, and told me once  that he was one of the guys on the railing watching all of this, all the while thinking the group was a little hard on the candidate.
But it was my mother's memory of our now mythical 35th president that I always thought was the most fun.  She told me many years ago about a brief sighting at a hotel in Kansas City during his campaign, but I didn't remember the details except that the hotel was the historic Muehlebach, she was with my father for a cattlemen's convention, and that the  John Fitzgerald Kennedy she saw did have mega watt charisma, as she told it.  Unlike my dear departed daddy, my mother remembers everything as if it was yesterday, and she remembers yesterday too, so I figured it was correct.  And after a search, I found out, she WAS correct.  He was there, and so was she.
Here's the piece I found about Kennedy's mission that day, and why he happened to be in the lobby of that hotel when my mother was and a snippet of that day of October 22nd, 1960.
"On Saturday, Oct. 22, Kennedy spoke in St. Louis, Joplin and Wichita before heading to the Kansas City area in his Convair campaign aircraft.  The plane made a late-afternoon landing at Richards-Gebaur air base near Grandview.Kennedy first spoke at Truman Corners Shopping Center, built in part on land purchased from the Truman family. "Mr. Nixon recently dismissed me as 'just another Truman,'" Kennedy told around 10,000 spectators."I was flattered."From there another estimated 10,000 people lined Kennedy's motorcade route north on U.S. 71, with crowds swelling at several intersections, among them 75th Street and Prospect Avenue, Gregory Boulevard and Prospect Avenue, and 63rd Street and the Paseo.  A band joined the motorcade at Truman Road and led it to the Hotel Muehlebach, where thousands more were standing outside when Kennedy arrived at 7:45 p.m. Among those waiting inside the hotel were still more admirers and — in another part of the Muehlebach — four Republican Party elders operating a "Truth Squad" table. Among them was U.S. Sen. Prescott Bush of Connecticut, the father and grandfather of future presidents."    http://www.kansascity.com/2013/11/05/4600190/when-jfk-came-to-kansas.html#storylink=cpy
And among those not waiting for JFK inside the hotel was my mother.  She was just staying there. Mom was a glamorous woman, and still is.  She would have been not quite 30 at this time, and she was, as my father would say, "A fine figure of a woman".
She was also, back then, a "dyed in the wool" Republican.  She left the party after Nixon and never went back.   But that day, she was fully in Nixon's camp at the Muehlebach.
Here's a paraphrased version of the story she told me yesterday,  "We were at a cattle convention, called "The River Markets Group", and  I was just in the lobby of the hotel.  I had on a black suede coat with a white fox collar, (my mother never forgets a good outfit, or in my case, what she considers a bad one) with a (gasp here) Nixon button on.  Uh oh...  "JFK came in with entourage, he was either going out or coming in.  He was very good looking… had a beaming smile, great hair, TOO  gorgeous ..almost a light around him….he just smiled at me,  (I would bet he did) ,and I put my hand over the button."  Ya think?  Yeooww.  Leave it to my mother to meet a living legend while cheering for his nemesis.  

My now regretful mother, had her "ah ha" moment while at an inauguration party.  "I heard his speech and knew I'd voted for the wrong person".  (Pheew…, glad that happened, Mom.)  Considering her background, raised by Republicans, and then and now a member of the country club, where you'd have to search high and low for a Democrat (even to this day), I get that.  It sounds like then she wasn't voting charisma over party, and she stuck to her guns.  (I wouldn't have, I'd just have voted for the gorgeous guy).  But not Mom.  She also stated that Dad  most likely voted the Democratic ticket that year.  That sounds about right.
In this last month, on the 50th anniversary of his death, when the media is filled with all things JFK, I've watched most of those things, and cried a time or two remembering being in the second grade at Bryant School on November 22, 1963 and being told mid afternoon to go home, school was done for the day.  I remember watching Lee Harvey Oswald being killed on live television, not a good thing for a seven year old to see.  It still makes me terribly sad, and I'm glad that my mother, as she sometimes does, was able to give me a story with a bit of comic relief.  For, in the end, it's  not always the death we should remember, but the life.
So, when you hear these wonderful snippets from your parents or grand parents, write them down and share them with your children.  That's how a lot of history gets told.  And you just might make someone look beyond the sad stories of history, and for a moment, make them smile.
Thanks, Mom, thinking of JFK smiling at you, I'm smiling too.