April 3rd, 2014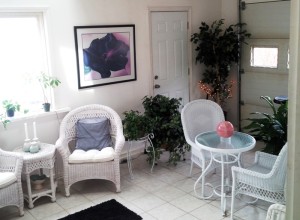 "I get by with a little help from my friends"  
John Lennon had a white room. Virginia Woolf just wanted a room of her own. So did I.  So, little by little,with the advice and help and handiwork of others, I made one. In my garage. My house is small and there was really no where to add, so the car got moved, and I got busy.
My mother thinks I'm crazy. She can't imagine someone wintering still in Iowa would give up a warm cozy place in which to house a car. She may be right, but I'd rather have that warm cozy place to house myself.
The white room in the garage began years ago when my ex, the artist and builder, made skylights and his signature lofts years ago for a studio for himself. He never really used it, but I left it to him. When he moved out, it became mine.
It was still somewhat of a shell, though, so I decided to give it a fresh coat of white paint, finish the white tile floor, and do some painting of my own in there. It was therapy for me, and it worked. But last summer I decided that it was going to be more than a studio, it would be a room…of my own, and a room all in white.
Next came the wicker chairs, table, baskets, and plant stands sprayed all white by a very handy guy named John, who does those handy guy things for me from time to time. He's good at the things I can't do. My friends Fiona, Cindy, Sheryl and Reba gave suggestions, and my son and my sister visited and approved of the general direction I was heading. My friends Jeremy and Tyler gave the whole thing the once over, moving and schlepping and perfecting as they went along.
The beauty of a white room is that is becomes a canvas to paint on as you like. So the color came from a woman who knew her way around a canvas, the brilliant Georgia O'keefe. No one painted flowers like that woman, and no one else seemed to belong on those white walls.
Rooms need something living, other than the occupants, so plants were added. It's the least expensive way to add beauty, and one of the best, I think. So…the plants came from my husband Eric, from me, and from my two brothers, Ted and Norm, who sent orchids 2 weeks ago at the same time, not knowing that one of Georgia's paintings was being framed. It's called "An Orchid"
How did they know?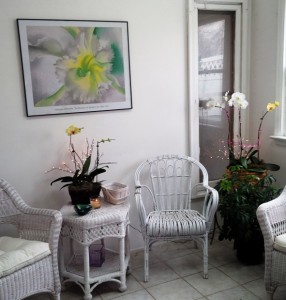 I'm still tweaking it day by day. It's a creative outlet, one I've needed lately.
It cheers with skylights and sun during the day, and gives good light even on the most desperately gloomy Iowa winter day. At night, it calms, with no light but little soft white twinkly lights.
I must have known that I'd need this place, to get through a ghastly winter, my husband's stroke, my pain and surgery, and all the other challenges I've been handed in the last few months.
It IS a room of my own, but it isn't. The people who care about me each brought a piece of the room, a piece of themselves to give to me when I needed it most. So, it's theirs too.
At the center of the room is an enormous rose quartz crystal ball from my brother Ted. I won't ask how he knew how perfect that would be in my little weird white space…he always seems to know.Rose quartz should be at the center, because it symbolizes love. And, no matter what heavy burdens the world can bring, I can look at that and remember that while a room of one's own is important, so is the circle of protection that comes with the love of others who help you build that room.
We may come into this world alone, and leave it that way, but in between, if we invite others in, they just may stay a while and make everything just a little bit better.