July 10th, 2013
"Martyrs, my friend, have to choose between being forgotten, mocked or used. As for being understood – never."  Albert Camus
The story of  the murder of then 54 year old  prohibitionist and abolitionist Methodist minister Reverend George Haddock has been a fairly quiet story until now, relegated to the history books and  historic tours -somewhat of  a footnote for the past 127 years since he was gunned down at 10:15 p.m. on August 3rd, 1886 on the corner of 4th and Water St. in Sioux City, Iowa
Others who were part of Sioux City history have more impressive monuments.  The imposing  Sergeant Floyd Monument, placed in memory of the first man to die on the Lewis and Clark exhibition, greets visitors from the south,  standing 100 feet high on a bluff by the river.   War Eagle's Grave, a memorial to the respected Native American leader and Chief War Eagle, stands proud and high on another bluff and greets visitors from the north.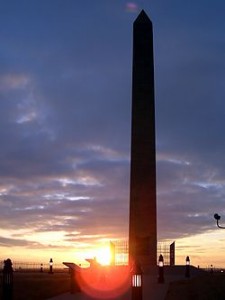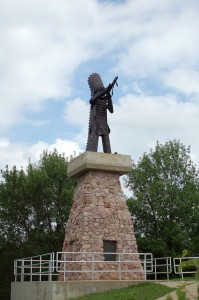 In sharp contrast is the small plaque memorial to Reverend Haddock, actually placed on a street, close to where he fell.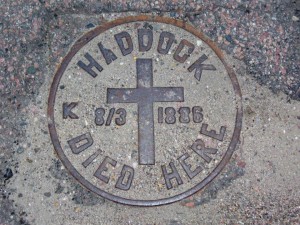 So, 127 years after his murder, and in one of the most ironic situations I've heard lately, the  street plaque honoring a man who was morally opposed to drinking and gambling  was removed this week to make room for a place where people can go… drinking and gambling.
My friend, comedian Garie Lewis, Sioux City's equivalent of Will Rogers, added this picture to his Facebook page  and made these comments:
Dear Sioux City…..
"Today the Reverend George Haddock Memorial plaque was removed from its' long time location. Seemingly without ceremony or reverence or respect for the man whose life was taken on or near that spot or for the convictions that he fought so hard to preserve…..just so we can build a casino. I wish i could say this surprises me. All I can say is I am glad to see Steve Hansen was present at this moment of "progress" as I know that the plaque itself is in good hands.  Sorry, but whether I support the casino or not….this is a cocktail in the face of this man's memory and a loss for this towns heritage." 
The part I liked about what Garie said was this," … the man whose life was taken on or near that spot or for the convictions that he fought so hard to preserve…". The man died for his cause.  He knew he was in danger, but he stood firm.  How many people do that?   Whether you like his views or not, he was true to what he believed.  He was taking on not just drinking or gambling, but also the violence that had been erupting in a town a bit top heavy on saloons.  Here's a picture of what was happening then from History.net :
"The riverfront town harbored 75 saloons, two breweries and several gambling and prostitution houses, (I'm picturing 22,000 people and 75 bars here, how about you?), but it also featured 18 churches and 11 schools.As the rougher elements in the town increased, so did lawlessness. A police department was established in 1885 to work in conjunction with the city marshal's office to fight crime. Shortly before Independence Day 1882, the voters of the state had adopted an amendment to the constitution that made it illegal to sell liquor or intoxicants as a beverage. A statutory law championed by Senator Talton E. Clark, and thus known as 'Clark's Law,' had closed saloons all over Iowa except in Sioux City, where saloons, gambling and prostitution were allowed to illegally operate for a $25 to $100 per month fee. The fee was considered a contribution to the municipal treasury. Sioux City saloon keepers and their clientele thumbed their noses at the state law, and local businessmen looked the other way because saloons were good for business."
Sioux City sounds like a hot mess right there, and this is what the Reverend faced when he came to town:
"In October 1885, the Rev. George Channing Haddock arrived in Sioux City to become the pastor of the First Methodist Church. Born on January 23, 1832, in Watertown, N.Y., Haddock had married his wife, Cornelia, in 1852. They had spent most of their lives in Wisconsin before relocating to Iowa. It did not take long for the Rev. Haddock to notice just how serious the liquor law violations were in the riverfront town. A staunch prohibitionist, the dark-eyed, full-bearded Haddock had clashed with the saloon crowd as far back as 1874. After delivering a temperance sermon in Sheboygan Falls, Wis., he had been shot at and roughed up by three men within a block of the church. Such experiences had not caused Haddock to turn the other cheek. At 5 foot 7, he carried 200 pounds on a muscular build and was intimidating in appearance, with a reputation as a fighting preacher. In Sioux City, he decided to do battle once again with those misguided souls who offered temptations of sin and self-destruction. Preaching powerfully from the pulpit, he encouraged enforcement of the state liquor laws to clean up Sioux City. Naturally, his words were not appreciated by those who profited from Sioux City's'sins.' The reverend was insulted, spat upon and even threatened.
In one instance, Haddock was walking down the street when an antagonist called, 'Come over here and I'll cut your head off.' Haddock defiantly crossed over to the sidewalk and walked past his tormenter without incident. 'I always noticed that towards his friends he was the most generous and kindly,' the Rev. Orlin A. Curtis, a friend of Haddock's, wrote. 'There were in fact, two very different elements in his large nature as was once said of a famous Scotchman, tears lie in him, and consuming fire. Thus George Haddock appeared differently to those who met him. To some men he was an everlasting fist, but to others a friendly, open palm.'
Another Sioux City prohibition advocate, the Rev. D.R. Watson of the First Baptist Church, became so fed up with the threats, indignities and local sentiments that he resigned and left town. Haddock, though, did not waver in his attack on the consumption of alcohol for pleasure. He began witnessing and signing papers against saloons in court. Haddock knew the risks. He told friends and his congregation that he expected to meet violence or death at the hands of saloon elements."
Unlike most people, including the Reverend Watson, Haddock didn't back down.  He was murdered, and somehow, perhaps worse than that, the jury was so corrupt that they posed for a picture with John Arensdorf, the guy who went on trial, and was let off.  The sham of a trial was covered in Chicago, by the 1887 New York Times, and legions of papers who all concluded that the city fathers were corrupt as hell, and Sioux City, perhaps for the first, but certainly not the last time, went national for doing something completely wrong.
So, 127 years later, the drama has resurfaced.  And interestingly, the long deceased Reverend is dividing the town once again.  It seems everyone wants the same thing, a proper memorial, but as usual, we're split on what that's going to look like, who is going to pay for it, and where it's going to go.  A rumor was floating around that it would go inside the casino, which was mercifully corrected last night by museum director Steve Hansen.  Here's what he said,
"Let's start with what is important. The marker is not going in the Casino…no one wants it there including Hard Rock. The Marker that was place in the street 50 years after he died is not sacred..the site is historic. He died around the southeast corner of the intersecton. Much with Floyd or War Eagle..design a new plaque. Erosion moved Floyd at least twice. vandals caused damage to war eagles original site. A marker is appropriate and quite frankly more are paying attention now than the past 50 years. History..you gotta love it."
Steve's right.  There are spirited discussions going on, including last night's comments on my Facebook page.  There are the anti-casino people (I'm not among them), the pro-casino people, the city, the Cornerstone Church, who offered to pay for it, (which is nice of them, but they  feel that it should be a religious monument, not a city monument), and finally a committee that's already been formed, that includes some from the First United Methodist Church, who already has a memorial to the heroic Haddock, that includes these things among others:
Here's where it stood recently, courtesy of KCAU,
"A marker for a murdered Sioux City reverend will have to be moved to make way for the Hard Rock Casino.Right now it currently sits at 4th and Water Streets. It's there to honor Reverend George Haddock who was killed in 1886 for his stance in support of prohibition and against gambling. So, Pastor Roger Madden with the First United Methodist Church is stepping in. There's now a plaque in honor of Reverend Haddock at that church, and Rev. Madden proposes producing a replica of that at the Hard Rock façade at what used to be Dalton's Pub. "We want to see it go for private funding and not have Hard Rock fund it. We feel this is a good place, a proper place to be outside of the casino because that's where Reverend Haddock was.  Cornerstone Church also proposed a six foot tall memorial to be built near the site to honor Rev. Haddock. It too would be privately funded.The city council had no problem with building both memorials, and said while the city wouldn't pay for the projects, it would be responsible for maintenance."
Here's my thoughts.  Let's build one monument to this man, let's work together with the committee that's already in place, let's get a lot of input from those who have expressed interest, let's raise the funds needed, and finally, let's get it done.  I'll donate.  How about you? And as Steve said, "History, you gotta love it".