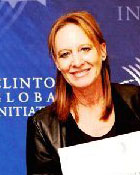 Cindy Waitt serves as Director of the Waitt Institute for Violence Prevention, a board member of the Waitt Foundation, and the Kind World Foundation. Prior to her 20 year career in philanthropy, she worked with at risk youth and their families for 10 years.
Cindy is on the National Advisory Board for the Futures without Violence, has been a member of the Clinton Global Initiative since 2006, and served as a judge in the Ashoka Changemaker's 2007 competition "No Private Matter".
Under her leadership, Waitt Institute for Violence Prevention has been a lead supporter of the strategy of engaging men and boys in violence prevention through her support of Futures without Violence's awareness and on ground campaign, "Coaching Boys into Men"and Jackson Katz's "Mentors in Violence Prevention" . She sponsored a five year violence prevention in- school and community research project called the "Sioux City Project" and co sponsored the first workplace bullying Zogby poll in America in 2007.
Through the Waitt Institute, she is  the Executive Producer, with Gloria Steinem, of the 2014 HBO documentary "Private Violence", and is the Executive Producer of the award winning documentary 2012 "Bully" and the 2016  Sundance documentary "Audrie and Daisy".  In 2015, she was nominated for two Emmys for "Private Violence" and "Bully".
Cindy has been directly involved in three national Ad Council Campaigns from 2002-2006 and is a co sponsor, with AOL,Facebook, and Marlo Thomas's "Free to Be" foundation, of  a 2012 Ad Council anti bullying national campaign.She recently received the "Lifetime Achievement Award" from Futures without Violence for her leadership in engaging men and boys in violence prevention.
When not involved in philanthropic work, Cindy writes for her blog, for Huffington Post, and MarloThomas.com. She is the daughter of the late Norman Waitt and Joan Waitt, wife to Eric Blumberg, mother to Ben, and sister of Marcia, Norm, and Ted.