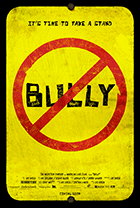 A year in the life of America's bullying crisis "This year, over 18 million American kids will be bullied, making it the most common form of violence young people in the U.S. experience." That was the starting point for Lee Hirsch, an Emmy and Sundance Award winning documentary filmmaker, and producer/writer Cynthia Lowen. Their goal was to make a character driven film that followed the lives and stories of students across the country, starting on the first day of school through to the last day. With its unprecedented access to Sioux City schools, provided by the district's long term partnership with the Waitt Foundation and the Waitt Institute, Bully, formerly called "The Bully Project" follows the stories of students, teachers, administrators and parents as they battle bullying. The film will had its world premier as part of the World Documentary Feature Competition at the 10th Annual Tribeca Film Festival in New York April 23, 2011. The following day, the film was picked up by The Weinstein Company for distribution. Since then, "Bully" has become a prominent national story, with countless film festivals, awards, and an awareness builder for the movement nationwide. It has been featured on most U.S. media outlets, including CBS, NBC, FOX, ABC, CNN's Anderson Cooper, MSNBC, the New York Times, Huffington Post, and many others. The controversy over the MPAA "R" rating for the film has galvanized a national protest, led by Harvey Weinstein and with notables such as Meryl Streep, Ellen Degeneres, Johnny Depp, Whoopi Goldberg, David Boies and Ted Olson,, and Kelly Ripa signing on. Katy Butler, a high school student from Michigan, who has suffered bullying ramped up this protest with a half a million signatures on a human rights petition at Change.org. The film opened in New York and Los Angeles on March 30, 2012.

Everyone wants to know: Why doesn't she leave? Private Violence asks a different set of questions: Why does society blame her for his abuse? Why do women continue to be assaulted and murdered across America? What role does society play in ending this violence? Private Violence, a feature-length documentary about the epidemic of violence against women in America, will debunk the myths about victims, perpetrators and survivors of domestic violence, draw the connection between violence in our homes and violence in our streets, 
and serve as cornerstone for a comprehensive public awareness campaign 
that will educate, inform and then inspire women and men - from all walks of 
life - to get involved. One woman's courageous journey from victim to survivor serves as the backbone of the film. Private Violence draws back the curtain on this deeply entrenched and misunderstood crime by working the tension between the cold, stark brutality of domestic violence and a transcendent story of survival. Deanna Walters' case exemplifies exactly what women across the country face every day: indifference from the local criminal justice system, marginalization and blame from family and friends; and the feeling that she'll be dead before anyone takes her seriously. Narrated by producer, survivor, and activist and advocate Kit Gruelle, "Private Violence" also weaves in the history of the movement, with commentary by Ann Jones, Jackson Katz, Mark Wynn, Ellen Pence, Donna Ferrato, Gloria Steinem, Ted Bunch and many others. Using film clips and interviews gathered over the last 10 years, and footage and photos from the movement's history, the film will make the viewer see the issue from many angles. Directed by Cynthia Hill and Rebecca Cerese, produced by Kit Gruelle, the film's Executive Producers are Gloria Steinem and Cindy Waitt. Post production will be completed by fall, 2012.