April 14th, 2014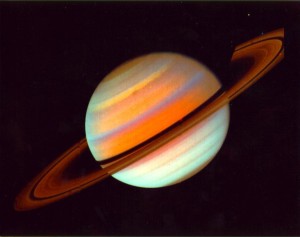 'We are born at a given moment, in a given place and, like vintage years of wine, we have the qualities of the year and of the season of which we are born. Astrology does not lay claim to anything more." Carl Jung
"I don't believe in astrology; I'm a Sagittarius and we're skeptical."   Arthur C. Clarke
Are you entering or just leaving your late 20′s or nearing or just about done with your late 50′s?  Have things seemed a bit, well, challenging in the past few years?    My last few years have, and though those times at the end of our twenties and fifties can signal significant life changes, there's something more that could be at work.
Perhaps it's in the stars.  In any case, it's something I learned about a very long time ago, from a wise woman, who took the study of astrology seriously.  It's called the "Saturn Return" and it's a return that astrologers say happens to us at least twice, or sometimes three times in our lives.
The study of the stars and planets is not something for everyone, some put stock in it, some dismiss it.  For me, I've found over and over again that there IS something to the ancient practice of studying celestial movement.  J. P. Morgan, hardly someone I'd picture dabbling in the stars and planets, famously said, "Millionaires don't use Astrology, billionaires do."  There are a lot of people, who I wouldn't consider the "New Age" type that swear by it.  But it's more complicated than people think.  Let's say we are born a "Leo", somewhere between the third week of July to the third week of August.  This means that our "Sun" sign, where the Sun is placed at the time of our birth, is in the constellation of  Leo.  But, there are multiple planets that can impact us at the moment of our birth, and Saturn is one of them.
So, the Saturn Return….Apart from the esoteric, I found two films, several books, and what they call a "death core" band * named after the return of the planet they've called "The Lord of Karma",  Saturn.  Ringed seven times, this planet, that has also been called "malefic", is in a certain place at the moment we are born.  It moves slowly and deliberately, and reappears only about every 29 1/2 years in our lives.  You may not know what to name it when it comes calling, but for most of us, it can get our attention.
According to those who believe in such things, the Saturn Return hits in the late twenties, and its impact is felt into the early thirties. There's a second  Saturn return that comes between age 57-60. The third return comes around in our eighties.  It coincides, as I've said, with development stages of our adulthood.  The first is about growing up and moving beyond our childhood, the second is a regrouping that happens perhaps close to retirement or our empty nest phase.   The third deals with issues of mortality and wisdom gathered.
Here's a site that gives dates of the years you were born and when you might expect Saturn to come back into your life…http://saturnsisters.com/where-is-your-saturn/
Are you still with me, and want to know what it might bring?  It depends on who you talk to, and it also depends on you.  There are sites who proclaim what a good thing Saturn returning can be, bringing just rewards and giving us a brilliant opportunity to learn.  Others find it tough. One of my favorites says, simply, "The SATURN RETURN, WELCOME TO HELL".  Ouch, let's move on, shall we?
If this planet, as they say,does rule "karma", remember that "karma", or the law of cause and effect, can be something wonderful,  or it can be kind of… gut wrenching.  It may be somewhat of  a wake up call, a time that we either learn the lesson, or pay the price. The more I read about it, the more I see it as a stern taskmaster or teacher, who rewards you for hard work, but can also make your life pretty rough if they feel you aren't quite learning as quickly as you should.
Here's just an example of this phenomenon in my life and in the lives of  those closest to me…
My son, who is now 32, went through his first Saturn Return, from October 2009-October 2012.  Suffice to say, he was faced with issues of "growing up" and was, to say the least, dealing with multiple problems that cropped up during this time.  He's doing fine right now, but I just hung onto my hat around then, as I'm sure did he, during this dizzying roller coaster ride that Saturn brings.
My husband, now 62, had his second return at the exact same time.  Saturn can bring many changes, and for Eric it brought a change of career and change of cities.  His mother passed during this time, he left a career that he most likely no longer was suited for, and he had a serious illness brought about by a need for a medication change he probably should have done years before.  Saturn bears down on us, and it weighed heavy on him, but he's through it now.
Not to be outdone, I ushered in my Saturn return that began in late 2012 with some challenging work issues.  2013 wasn't perfect, but it flowed fairly well until November of 2013, when my husband had a stroke.  He recovered beautifully and made life changes, as did I.  But, Saturn wasn't quite done with me, and in January, I began to suffer severe, almost constant pain from what I learned later was a herniated disk.  After 2 terrible months, March brought surgery, and recovery now into April.  Perhaps my lesson there was that I'm not 25 anymore and some of the physical things I could do then, weren't possible as I moved into this stage.
Not everyone will experience the kind of things my immediate family went through, but as I said, Saturn does occasionally come as what I've called "the cosmic fed-ex".   When you get this delivery, open it right away, read it, and do something about it.  I repeat, DO something about it.
I think we all learned from some of the rough times, and things are smoothing out all around.  My return isn't done yet. so I'm trying to hone in on things I might have missed and lessons I should have learned by now.
Hoping I haven't thoroughly depressed you, stick around….there's good news too.  Saturn, being the taskmaster, also recognizes you with some well earned rewards.  Some say that people you connect with during your returns may be spiritual and romantic soul mates.  My son found his, and my husband reconnected with me during that time.  They both went back to school, one as student, the other as a teacher.  I liked the symmetry of that.
For me, the reward has been learning to slow down, something I'm not good at doing.  I've also been rewarded with the success of a project that a group of us had been working on for almost 9 years.  It's now a film called "Private Violence", and it's doing exactly what we hoped it would do.
Remember, this isn't for everyone, and there are tons of very bright people who think this is nonsense.  And it may be.  But I'm going to dig into it a bit more as mine continues at least until the end of 2014. Fingers crossed.
*btw…what the hell is a "death core" band?
Comments (0)