May 15th, 2013
To dearest Norm, with love.
"One man practicing kindness in the wilderness is worth all the temples this world pulls."
Jack Kerouac, The Dharma Bums
"Every family needs a Norm" Eric Blumberg
Norm is my older brother, but I'm fiercely protective of him. That's just the way it is. As very small children, he was, according to my mother, very protective of me, so perhaps I'm just paying it back. So, there you have it. If you mess with Norm, you'll answer to me. 🙂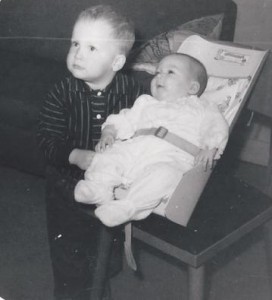 His kindness is almost pristine. His humor is legendary. His generosity is enormous, and much of the time, it's quiet. His humble ways sometimes fool people, but underestimate him at your own peril, because his mind and his memory are razor sharp. He can be trusting, sometimes to a fault, like I am. He loves music, he loves art, he loves to fly from place to place, (unlike me), he's way more physically fit than most people, he gathers beautiful things, and he gives beautiful things back. He's a stellar friend, a great dad, a loving brother, and an irreplaceable human being.
My husband Eric, who as a former journalist, is a pretty decent judge of character, said an interesting thing to me one night after I'd hung up from a conversation with Norm and said something like "Oh, Norm…he's just so sweet". He said, "Every family needs a Norm". They do, and every world needs a Norm too. We're glad he's here.
For his birthday, I'm gathering good thoughts from friends, acquaintances, and colleagues to give to him at his birthday dinner this week. Please leave a wish for Norm in the comments and tell him that you're glad he's here too. 🙂