October 16th, 2012
"If the numbers we see in domestic violence were applied to terrorism or gang violence, the entire country would be up in arms,and it would be the lead story on the news every night."– Rep. Mark Green
"Bullying is killing our kids. Being different is killing our kids and the kids who are bullying are dying inside. We have to save our kids whether they are bullied or they are bullying. They are all in pain."  Cat Cora
Preventing violence is the most crucial work I will ever do in this lifetime.  Herman Wouk said once, "Either war is finished, or we are".  I believe him.  We need to stop the wars we wage against each other every day, in the home, at work, and in school.
Let's start at home.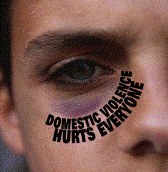 I'm often asked why I do this work, when I grew up in a home that wasn't violent. Much of my concern about violence started close to 30 years ago, when I was a caseworker at a residential treatment center for adolescents.  These were the "toughest" cases, the kids with pervasive behavioral disorders.  Over the years, I saw hundreds of kids from 11-17.  The common thread in all their case histories?  They had suffered from or witnessed abuse, or both.   "Tough cases", who had already exhibited some criminal behavior aren't born that way.  We create them.  I knew then the link between crime on the streets and crimes committed in the home.  There were more links to come for me, but I knew then what I know now.  It starts at home and goes from there.
How prevalent is violence in the home?  Let's just take what we call "domestic violence".  Some call it "interpersonal violence", "relationship violence", or "family violence".  Some name it as it is, "violence against women".  There is, of course, violence against men.  In fact, the violence most often committed is men's violence against men according to my colleague author, speaker, and activist  Jackson Katz.  But…women are 84 percent of spouse abuse victims and 86 percent of victims of abuse at the hands of a boyfriend or girlfriend and about three-fourths of the persons who commit family violence are male, according to Futures without Violence, so I focus on that here. Some facts from Futures tell us how often this happens in American homes every year.
On average more than three women a day are murdered by their husbands or boyfriends in the United States. In 2005, 1,181 women were murdered by an intimate partner.2
In 2008, the Centers for Disease Control and Prevention published data collected in 2005 that finds that women experience two million injuries from intimate partner violence each year.3
Nearly one in four women in the United States reports experiencing violence by a current or former spouse or boyfriend at some point in her life.
According to the Fayette County Justice system and other sources, children are present during 80% of the assaults against their mothers and 3 million children witness domestic violence each year.
Family violence for many years was thought of as a "women's issue".  As profiled in the new documentary we've supported "Private Violence", women were always at the forefront of the movement, working tirelessly to create laws and safe haven for women and their children.  It was and is crucial work.  At Waitt Institute, because of a recommendation from a long term colleague, we made the decision that as prevention was our focus, we'd do something a bit different, by focusing on men and boys.  After research in 2000 told us that men would work with boys in modeling and educating them in non violence and respect, that's where we've put much of our resources.  It's just a piece of this puzzle, but it was a start and an add on to the work women and now men do "in the trenches" every day.  There are too many women dying, too many families in shelter, and too many incidents of this brutality in what we call our "civilized" nation.   As encouraged as we are at the statistics that tell us that domestic violence has decreased in the last 30 years, and it has, the numbers still horrify.  Let's continue to get this issue out of the closet and into our public discourse, and most important, let's continue to educate our kids.  They are the future, the game changers, and we hope the ones who will decrease the numbers even more.
We move into the schools...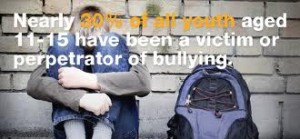 When director and producer Lee Hirsch and Cynthia Lowen approached to support what was then "The Bully Project", we'd been doing anti bullying work for nearly 9 years in Iowa.  We knew it was out there, but I don't think I realized how much it was out there.  Here's some statistics to think about.
*According to bullying statistics 2010, there are about 2.7 million students being bullied each year by about 2.1 students taking on the roll of the bully.
*Over half, about 56 percent, of all students have witnesses a bullying crime take place while at school.
*A reported 15 percent of all students who don't show up for school report it to being out of fear of being bullied while at school.
*There are about 71 percent of students that report bullying as an on-going problem.
*There are about 282,000 students that are reportedly attacked in high schools throughout the nation each month
*Among students of all ages, homicide perpetrators were found to be twice as likely as homicide victims to have been bullied previously by their peers.
That last statistic showed me another link, from bullying to potential homicide.  Yet another link exists.  A CDC study in 2011 confirmed that kids who witness violence in the home are more likely to bully and more likely to be bullied. Though not all cases are linked, we can begin, in some cases, to connect the dots from violence in the home to violence in the schoolyard.  Knowing about these links, schools must not only focus on anti bullying curriculum, they must include relationship violence as well.  We are encouraged by the astounding response to "Bully".  It's a true tipping point in the movement.  The hardest work is to follow.
Where we work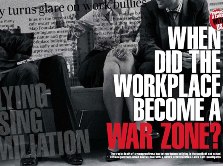 We began to dive into the relatively new movement of "workplace bullying" around 2006.  The study we commissioned with Drs. Gary and Ruth Namie, of the Workplace Bullying Institute, with Zogby in 2007, followed up by yet another study in 2012, gave us some astonishing news.
*35% of workers have experienced bullying firsthand (37% in 2007, given the MOE, essentially equivalent)
*62% of bullies are men; 58% of targets are women
*Women bullies target women in 80% of cases
*Bullying is 4X more prevalent than illegal harassment (2007)
*The majority (68%) of bullying is same-gender harassment
The numbers are devastating to read.  Millions of human beings are being targeted at work, with outcomes such as increasing mental health issues, physical health problems, and in some cases, even death can be linked to years of trauma.  These are someone's kids too, just grown up, being targeted by other "grown ups".  Again, a link.  The tactics of power and control are the same for family violence and school bullying.  Coincidentally, this week has been designated "Freedom from Bullies" week, by workplace bullying experts. I don't know if there is a color for that, but  October is a busy month.
In the end, stopping violence, bullying, and any mistreatment of any human being is an act of love. Standing up for victims is an act of courage.  And believing that it CAN be done is an act of faith.  We can all make an impact, every hour of every day, and someday, perhaps the violence will stop.