January 26th, 2013
"Taught from their infancy that beauty is woman's scepter, the mind shapes itself to the body, and roaming around its guilt cage, only seeks to adorn its prison."
I do not wish them to have power over men; but power over themselves." Mary Wollenstonecraft
My maternal grandmother's portrait is in the lobby of the Orpheum theater in Sioux City, Iowa. It's a former vaudeville and movie palace built in her heyday, in 1927, lovingly re- imagined and restored by the people of the city, with help from my two brothers. That's why her picture hangs there. I often see people stop and stare at her. They comment to me often on her curly black haired, unusual, and sultry beauty. She had that particular 1920's silent movie star or Zelda Fitgerald style, an angelic look that you figured hid a devilish sense of fun and mischief. She was fun and she was mischievous, so we named a piano bar after her, in the same building.
She was born in the heartland, and in a time and in circumstances when women were discouraged from looking inside, and prompted to find success in the beauty of their homes, their clothes, their children, and their lifestyles. At those things, she succeeded and succeeded as she was expected to …beautifully. Her luck with men, as many as she gathered, and there were many, wasn't as good. Had she been born 50 years later, her life could have looked very different.
She had three husbands, in the days before women had three husbands. Two of the divorces weren't her idea, one was, and that decision was a smart one. Her many married names gave rise to my often told joke that my own many married names made me sound like a law firm.
" Were woman to 'unsex' themselves by claiming equality with men, they would become the most hateful, heathen and disgusting of beings and would surely perish without male protection." Queen Victoria
She was raised by Victorians, was a child in Edwardian times, but came of age in the 1920's. All of those times defined her. Her own name, before she add so many names to it, at birth in 1904 in Winchester, Kansas, was Mildred Emma Armstead, It was before the first world war that changed so much, before women could vote and in a time when it was said by her mother that " a lady is only in the newspaper three times in her life…when she was born, when she was married, and when she died". She broke that rule early on and most likely would have continued that if she'd had that chance. She was the first and only child of Minnie Louise Griffith and Dr. John B. Armstead, both of English descent whose families were early Kansas pioneers. Their home is a stately Victorian, that remind me of Amelia Earhart's childhood home, not 20 miles away.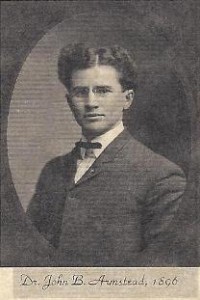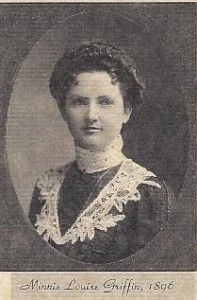 Dr. Armstead, who would travel on horseback to tend to patients in Jefferson County, suffered a fall at 37 that led to a brain tumor. He was buried on Mildred's 10th birthday. Minnie did remarry, but was widowed twice more. Grandma, however, told me she had a good childhood and she had a kind and good- hearted mother who " I'm afraid spoiled me a bit." I suspect she spoiled her a lot. She also had an indulgent step father and a widowed grandfather who adored her. I can see from the old pictures she didn't want for much, driving a swanky car in her teens, and always dressed exactly the way she was supposed to be dressed in that time. She was the first woman in her family to graduate from college in 1926 at Baker University in Baldwin, Kansas. It was there she met my grandfather William Gaston, a handsome, charismatic man with a beautiful singing voice . But before that, she was as they used to say "a belle", and being that belle was a big deal.
"She tried to weave the strength of her father and the young beauty of her first love, the happy oblivion of her teens and her warm protected childhood into a magic cloak." Zelda Fitgerald "Collected Writings"
A pretty child who grew into her beauty early and blessed with obvious charm and style, "Momo" never lacked for attention or for "suitors", as she called them.
I look through her old clippings, some faded to the point of being unreadable, and glean what I can about the details. Momo herself and my own mother Joan, her only child, have filled in the rest. The yellowing scrapbooks she saved gives credence to the years of stories of her little brush of fame in the days when women had just started bobbing their hair, sipping gin, driving cars, speaking out, and delightedly shocking their elders. Ironically, the college she attended didn't allow sipping gin, or much of anything else. Dancing and card playing were also verboten. She must have found the time and place to indulge in a bit of wicked fun, although she may have followed the rules that made her want to break out of that box later. I like to think of her as a big time shocker to her adoring but strict Methodist family. Beyond that, though, according to her, a young lady's popularity, style, and charm was the key to success and the eventual goal was to catch the right man. Gathering titles as a college beauty queen didn't hurt. She did that, and apparently did it quite well. Her favorite story was about spring of 1926, where she was crowned, "Queen of the May" at her school.
According to this story, she'd had another beauty queen round the year before, as the "Queen of Les Jeaux Floraux". That story calls her "The Queen of Beauty". What followed theses queenly titles was the story she told the rest of her life and the story that always made me a little sad. She went to summer school one year at UC Berkeley in San Francisco, and a talent scout for Cecil B. DeMille noticed her. Contact was made to her family from De Mille's office inquiring about the future of their daughter. Her straight laced mother and step father apparently found an acting career at that time way too scandalous, and that was the end of that. She returned to Baker. She may have felt sad then too, but I doubt too sad. She was on the track she set out for herself, or was set out for her, and my guess is that she was too damned happy to be so wanted to cry much over not becoming the next Gloria Swanson.
As much as she adored men (there are many pictures of her with men who weren't my grandfather), she also surrounded herself with like minded women. She was the quintessential sorority girl, with a dance card. I actually found one. It was full. Her Zeta Tau Alpha girls were a big chunk of her life back then. When I didn't pledge in the 70's, she was dismayed and pronounced that she had serious doubts that I'd find the right type of man to marry. As hard as I'm sure she studied in Home Economics, her major, she never spoke of the academic side of college too much, at least not to me. An essay she did on Shelley and Keats is saved in a blue book, and is marked with a resounding "F". She may have cried on that one, as she, like me, cried very easily.
"Ev'ry morning, ev'ry evening
Ain't we got fun?
Not much money, Oh, but honey
Ain't we got fun?" Cole Porter
She did graduate, though, and she actually taught for a short time, until her impending marriage made her "unfit" to teach. As completely crazy as that sounds today, there were laws then in some states that barred married women from teaching. But marry she did in 1927, to the man who was to become the father of her first and only child, Joan Louise Gaston. Bill Gaston isn't hard to describe. There wasn't a microphone, a Scotch, or a woman he didn't relish. He was smart, he was a story teller and singer, a great salesman who ended up as an international vice president of BF Goodrich company. He flirted with my bridesmaids, and he once left my pre- teen brother Norm and I in a park in 1967 in San Francisco, while he ducked into one of his favorite piano bars. Two children from Iowa had an early education into all things Haight Ashbury, and I've always thanked him for that. We loved our grandfather, but Bill Gaston was, as my mother said, " somewhat of a "rounder". She's also used the old term "Roue" to describe her father. This telegram I found, sent to grandpa on the eve of their wedding gives a hint.
They moved to St. Louis, where he was on the road, she swept her floors to the point of annoying her neighbor, and my mother thought that before she was born in 1931, "she must have gone mad with boredom". It didn't look like the glamorous duo missed any fun in the early days, however, and this picture speaks for itself.
I still like to think of them as Scott and Zelda, only not as drunk and self destructive. (Well, maybe drunk sometimes… :)) My charming grandfather pronounced to her one day that he would prefer the single life, a shock I don't think she ever got over. She's always pronounced him her true love, and though they didn't see each other for years, they kept in touch later and then for the rest of their lives.
"It seemed that the only lover she had ever wanted was a lover in a dream."
― F. Scott Fitzgerald, The Beautiful and Damned
Momo, as emotional as she was, was a pragmatist and she soldiered on selling Avon cosmetics until she ran into husband two, who was older and rich… really rich.. and founder of a company that exists today. She was his third wife. That was a long marriage, but from comments from my parents, a difficult one. He treated her to all that money could buy, furs, jewels, three homes, a suite at the Waldorf , but he didn't always treat HER that well, according to reports. She was banned from any contact with my grandfather, as was my mother, a ban that didn't lift until husband number two's death in the early sixties. Mom tells that grandma "wore herself out trying to please him", including putting my mother in boarding schools, as he wanted her to be free to travel. Momo did what she was told, to her later regret. But she always told me she married him for love, and I believe her. Being Momo though,she had to add, "You know Cindy, you should marry for love, but try to love where there's money". I think things became important to her early on, perhaps to replace the romantic lover that she could land but not keep completely, perhaps to make up for the early death of her father. I don't really know, but she needed a sense of safety, beauty, and comfort and made sure she had them.
Husband Two, after 20 years, also announced he was moving in a new direction, another shock to her system. By then, she was in her mid 50's and time was marching on. I would imagine she was frightened about her place in a society where everyone she knew was part of a couple. That's how the world worked, and still does, in some ways, in the world of country clubs. It was particularly hard for women, she told me later, again advising me about the risks of divorce.
"In those days, we didn't have a name for domestic violence, we just called it life" Gloria Steinem, in the upcoming documentary "Private Violence"
She still had the style and the charm and the ability to attract men, but again, not always the right ones. I understood that about her, as it took me years to get any of that right, and nothing in love is ever completely right. But she deserved more than what life brought her next. She met a man who came off as a quiet and proper person, almost "the demeanor of a preacher", as my mother said, who hid what he was inside, a dangerous and violent alcoholic. He pushed her down one night, and injured her back. I only heard about it years later, when I was in my twenties. It may have happened once, maybe more. I never knew, she only admitted the one "incident". Everyone kept it quiet. Violence like that wasn't discussed anywhere, particularly in the country club set. It was hidden and as our next film calls it, it was "private" violence. It has a name now, given by Dr. Susan Weitzman after many years of research on what she calls "upscale violence" when she wrote the book Not to People like Us: Hidden Abuse in Upscale Marriages. That wasn't available in the mid 1960's. Nothing was. She did end that marriage, and moved on. There were a few other men, one old "beau" who lived in Florida, who she visited, who was a good man, but ill and that wasn't in Momo's plans. As smart as she was about so many things, my sense was that she never seemed to be able to feel completely appreciated by the men she knew.
"There's no beauty without poignancy and there's no poignancy without the feeling that it's going, men, names, books, houses–bound for dust–mortal--" F Scott Fitzgerald, the Beautiful and the Damned"
I can picture her now as my plump, soft, silver haired grandmother with the feisty spirit and the sometimes sharp tongue, but I also like to go back into her history and freeze her in the early years of the past century and in the 1920's, before the world taught her that love and life weren't always easy and that beauty fades and with that, lives change. I've kept her there in the pictures for this story. I think she would have liked that.
I live in her home now, a home I spent so much time in as a child. I would visit often and have overnight stays here in the pale yellow guest room I loved. By then, she lived alone and loved the company, and would spoil all of her grandchildren with her famous southern fried chicken and delicious desserts. She had beautiful things and took pride in her sparkling clean home full of treasures amassed during her long life. She could tell you stories of each piece acquired from the Steinway upright piano to the prize winning chandelier she'd bought in New York. Her jewelry and furs were a treasure trove to a young girl who loved to play dress up. She would pull those out for special occasions. When you came to pick her up for those occasions, in her later years, she'd greet you at her door swathed in perfume, perfectly made up, and dressed impeccably. At 13, much to my mother's horror, she took me to see "Sonny and Cher" live in Chicago, introducing their film "Chastity". My first visit to Saks Fifth Avenue was with her. She was, I always thought, terribly glamorous.
She loved to travel, she still loved parties, men, her church, shopping, the theater, and music, and she had a genius for investing her money. My mother tells me she would outdo her financial advisers in picking the right stocks, something I've been told about my older brother, Norm. Perhaps he got that from her. Her finest investment made her a bit famous in the 80's and 90's in the heyday of Gateway computers as "Ted Waitt's grandmother who loaned him a 15,000 CD". (The loan became 10,000 from the bank, much to my brother's dismay). The media called her "Momo" sometimes, in the stories. So did we. Money was still important to her. When she was assigned as our babysitter, she'd occasionally "disinherit" us, thinking that would be the worst punishment we could get, particularly as obnoxious teenagers. It didn't stick. She'd open her door to any of us the next day, with a big hug and "well, come in, honey". She was generous. Her favorite saying when you tried to buy something yourself was "Save your confederate money, dear, the South may rise again". I hoped it didn't. She loved her home, as many Cancerian girls do. She was a creature of habit, and when I would visit, in the early evenings, she would give you a bottle of Squirt and bowl of cocktail nuts, pour herself a Scotch and tell me stories, both of the highlights of her life, and the low points, something she wasn't afraid to share.
She taught me to cook her famous fried chicken, to turn a bit in pictures to make yourself look slimmer, to play "Clair de Lune" on her prized piano, which I can no longer do. She taught me how to clean that gorgeous chandelier, and she also taught me survival. She lived into her late 80's and braved some health problems before she died one Christmas season. I made many of the mistakes she made, particularly with men, and knowing that,I always tried to do things to lift her loneliness a little. Every New Year's Eve, I would call her, from wherever I was, and wish her Happy New Year. I'm late this year, but wherever you are, Momo, Happy New Year. I hope your dance card is full, with something or someone you love and I hope it's a place as beautiful as you.